RENSON® is trendsetter in ventilation and solar shading. Since 1909 the company has developed and manufactured innovative products and solutions, which improve the living conditions of people and at the same time cut energy costs. RENSON® provides solutions to the construction market and offers architects, specifiers, developers, fabricators and installers a wide range of innovative systems. Our product ranges include window ventilators, louvres and continuous louvre systems as well as hinges, sun protection elements with aluminium blades and screens and terrace coverings. Through the intelligent combination of ventilation and sun protection, we offer energy-efficient concepts for a healthy and comfortable indoor climate – Creating healthy spaces!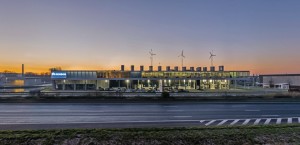 An independent family company The Belgian company RENSON was founded by Polydore Renson in 1909. At that time, RENSON® specialised in parts for opening and closing doors and windows as well as metal windows. Today, RENSON® has changed from an aluminium processing company to a knowledge based company. With its experience of more than 100 years in building construction, over 50 years in aluminium and over 30 years in ventilation, RENSON® relies upon its highly technical expertise handed on from generation to generation. Today, the company has a sales team of over 70 people and a network of partners worldwide, in Western-Europe, but also in Eastern-Europe, America, China, India and Middle-East.
No speed limit on innovation
RENSON® stands for innovative solutions. Its programme includes: window ventilators, louvre panels, continuous louvre systems, structural aluminium solar shading and screens. An extensive team of R&D staff and product managers is continuously working on the optimisation of existing products and on the development of innovative solutions. We want to face the future head on. This is why we work with the world's leading scientific organisations to put trends into new products. RENSON® listens to the market to develop the right solutions. 75 % of the growth we are realising, comes from products that have been developed here during the past 5 years. Every year we have an average of 10 to 12 product launches.
Creating healthy spaces
Energy Performance of Buildings Regulations, which apply to new buildings and existing buildings being renovated or extended, impose requirements on thermal insulation, energy performance and indoor climate. It is important to inform the customer about the necessity to ventilate and the importance of efficient external solar shading. RENSON® has a clear message: economise on energy but not on your health!
Why should we ventilate?
Each day indoor air is polluted by a number of sources; occupants (breathing) and their activities, building products (paint, glue, varnish, etc.), cleaning products and other interior sources (radon, etc.). With an increasing trend towards airtight construction, there has been a problem with humidity, CO2 and various other substances staying inside the home as adequate ventilation measures are not considered. These then may cause health problems (irritation of eyes, nose and throat, headache and sickness, among other issues) as well as comfort problems (smells, condensation, moisture). This is why you must regularly and properly ventilate buildings. Controlled ventilation, 24 hours a day, is the only effective and secure solution. This ventilation should also try to reduce the amount of outside noise entering a building e.g. passing cars or busses, sound of airplanes and trains.
Sun in the building? Yes, but controlled. A building with large glazed surfaces facing south can offer many advantages. During the autumn, winter and spring you can enjoy the benefits of the incoming sunlight and heat. In the summer, however, it can lead to an uncomfortable indoor climate through overheating. Irritating light reflections are also probable all year round. Structural solar shading and screens can prevent this overheating and control the glare. They stop the solar radiation coming into contact with the glazed surfaces. Undesired heat and blinding light then do not enter the building. However it's important the occupants are able to see outside, therefore the solar shading products should not hinder their view.
RENSON®'s healthy building concept
Through the intelligent combination of ventilation and solar shading, RENSON® offers energy-efficient concepts for a healthy and comfortable indoor climate in: in offices and industry buildings, homes, conservatories, schools, hospitals and health care. These concepts guarantee a healthy indoor climate and a pleasant temperature the whole year long, and they decrease the energy invoice. They are based on 3 elements: continuous and controlled basic ventilation, intensive ventilation during the night and an efficient solar shading.
Continuous and controlled basic ventilation
Basic ventilation guarantees a perfect indoor air quality. In conformity with the standards, a sufficient supply of fresh outside air used to force the contaminated inside air out of the building according to the principle of air supply, transit and extraction. This ventilation is permanently guaranteed through the supply of fresh air via window vents or acoustic ventilators.
Ventilative cooling
This is the concept of using natural airflow overnight to cool down a building and its air content. In this way, an optimal thermal comfort is achieved with minimal energy consumption in summertime through air conditioning. A sufficient amount of thermal mass is needed to store the internal heat gains during the day, while enough air (ten times the amount required through background ventilation) is needed to circulate through the supply, transfer and extract channels overnight in order to cool it down. RENSON® has developed a full range of louvres for this intensive ventilation. These louvres, surface mounted (type 432) or glazed-in (type 414), achieve large airflows, restrict water penetration, add security and do not require intensive maintenance.
External solar shading
Durable and permanent external solar shading systems with aluminium blades (Sunclips®, Icarus®, Cilium®, Loggia®) or screens (Fixscreen®, Topfix® Max) prevent overheating inside a building, while maintaining visual comfort. Besides the functional ability of these systems, these solutions can give the building an aesthetically pleasing appearance.
RENSON® has integrated this Healthy Building Concept into its headquarters, designed by architect Jo Crepain. This building earned international prizes and awards in several architectural and environmental contests, amongst which the Aluminium Award (Holland) and the Electrabel Energy Award (Belgium).  In 2009, the building has been recognised by the European Centre for Architecture Art Design and Urban Studies together with the Chicago Athenaeum – Museum of Architecture and Design with a 'Green Good DesignTM' Award in the category of Architecture. Today, RENSON® has extended this elegant office building with EXIT 5, a new experience and meeting centre, including a showroom for end users and professionals as well as a complete meeting facility with an large auditorium for up to 300 people.
Some Products
The product range of RENSON® includes window ventilators, louvres and continuous louvre systems as well as hinges, sun protection elements with aluminium blades and screens and terrace coverings.
Acoustic ventilation solutions
Being able to control the level and frequency of noise needs to be taken into account when designing a sound absorbing façade. High-performance window ventilators, louvres or the Linius® continuous louvre system of RENSON® allow to ventilate your building without any disturbing influence from outside noises.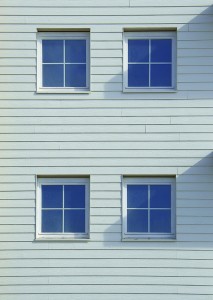 The Invisivent®EVO AK is a self-regulating thermally broken flap ventilator. Thanks to the installation above the window frame, this vent is almost invisible from the outside when designed with a stepped head. From the inside you only see the internal tip lever. Acoustic louvres and Linius® blades consist of extruded aluminium sections with an inorganic mineral wool core (not flammable) and a perforated back. They combine a high physical free area with an excellent sound reduction. Today, RENSON® offers a complete set of louvre panels and acoustic Linius® solutions with noise insulation Rw (C;Ctr) ranging from 6 to 17 dB, and even higher.
Wind-resistant vertical sun screen
RENSON®'s Fixscreen® is the first screen in the world that is truly wind-resistant and insect proof. It uses an ingenious zip system securely fastened to the edge of the screen which then is permanently held in the side guides of the system, making the screen wind-resistant in every position.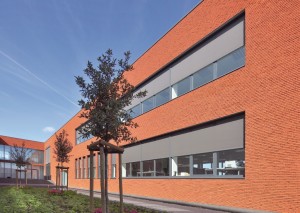 The incorporation of a patented waterproof electrical connection (Connect & Go) allows the fabric roller to be installed and removed very easily. Furthermore, the cable slot in the side channels allows the electrical cable to be concealed quickly and easily. But there is more to say. Besides the current Softline box design for its wind-resistant screens, RENSON® has come up with a new sleek Square design in response to the strong market demand. This Fixscreen® is suitable for all surfaces up to 22 m².
Invisible integration of doors
'Discreet internal doors' – the latest trend for a timeless interior with a minimalistic design. Thanks to the invisible door frame and invisible hinges of Argent Alu, a company of the RENSON® Group, the door closes perfectly in line with the wall, without any door frame nor hinge being visible.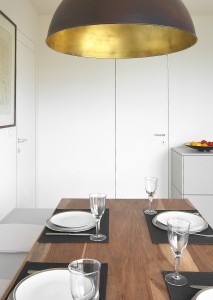 The argenta® invisidoor® is an invisible aluminium frame for internal doors. It can easily be integrated in brickwork or walls and can be used for all internal doors with widths between 38 and 40 mm, left or right doors, opening in or out. Door and frame are assembled at the factory and installed together, which means the installer only needs to visit the site only one time. The system is standard supplied with a magnetic lock, a seal around the frame absorbing door closing impact and the invisible adjustable hinges type argenta® invisible.
The argenta® invisible neo is available in 3 versions: S-5, M-6 and L-7. The compact dimensions reduce the depth of the hinge, while the Easy-Hook® system allows installation and setting by a single person. After installation, the height, width and depth are easily adjusted (3 dimensionally) without having to dismantle the door or the hinge. Furthermore, there are no screws visible, which allows an clean integration. This argenta® invisible neo recently won a Red Dot Design Award.
Terrace cover
This terrace cover combines an aluminium structure with a roof, made of rotatable blades. In closed position the roof is really watertight. The rain falling on the roof simply drains away through concealed guide water channels. When opening the blades after the rain, the furniture under the Camargue® remains dry.
By incorporating wind-resistant screens, glass sliding doors or sliding panels, the Camargue® becomes an extra outdoor space that offers protection against sun, wind and rain. There are wind-resistant motorised Fixscreen® available, that can be fitted with Crystal windows. In addition, you can build in glass sliding doors, that can also be combined with screens. The Loggia® sliding panels with screens or wooden blades offer yet another possibility. And the terrace cover can be delivered with integrated lighting, heating elements and flat panel speakers. These elements allow the user to customise its terrace covering and make the solution fit into any building situation.
Next to efficient technical features, RENSON® has also paid considerable attention to the finishing details. Fasteners and fixings, for example, are virtually invisible, all electrical wiring can be concealed, and even the footings can be out of sight. The structure can easily be installed, maintenance is kept to a strict minimum, and maximum durability is guaranteed through the use of top-quality materials.
Thanks to this terrace covering, the terrace can be used from early in the morning till late at night – the whole year long.